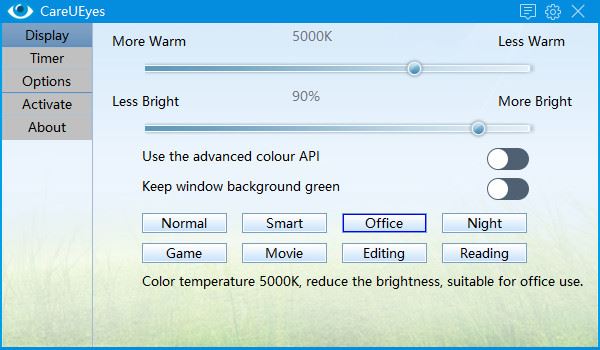 CareUEyes is an eye protection software for PC blue light filter, screen dimmer and break reminder for Windows.
CareUEyes is a dual-purpose program that can display break notifications at user-defined intervals and regulate the color temperature of your screen to make the light easier on the eyes. CareUEyes can automatically filter the blue light and make the screen look warmer and comfortable to the eyes, so that your eyes do not feel tired.
You are allowed to use this product only within the laws of your country/region. SharewareOnSale and its staff are not responsible for any illegal activity. We did not develop this product; if you have an issue with this product, contact the developer. This product is offered "as is" without express or implied or any other type of warranty. The description of this product on this page is not a recommendation, endorsement, or review; it is a marketing description, written the developer. The quality and performance of this product is without guarantee. Download or use at your own risk. If you don't feel comfortable with this product, then don't download it.
You May Like