The number of confirmed deaths from Covid-19 in Afghanistan has risen 34 to 737, as the western province of Badghis recorded its worst day of the crisis while violence rages on across the country.
Local officials have said that the actual number of deaths is much higher than these official figures, which were released the health ministry on Sunday.
The health ministry, which has admitted that it has a lack of testing capacity, recorded 351 new cases from 701 tests in last 24 hours, taking the total number of confirmed infections to 30,967.
Afghanistan has tested 70,788 suspected patients since the outbreak began. There have been 12,588 recoveries, including 2,004 in last 24 hours.
Most new cases (220) have been reported in the nation's capital Kabul, where eight patients died overnight. Testing had been halted for a day in Kabul due to a "problem" in its laboratories. The capital has been the country's worst affected area with 12,766 cases and 164 deaths.
The western province of Badghis, which has been battlefield of Taliban and Afghan forces in recent days, recorded its worst day of the crisis after 17 patients died from Covid-19 overnight.
The remote province of Kapisa recorded its first death, leaving only one province without confirmed death of Covid-19 in the country.
Meanwhile, violence is raging on with full intensity across the war-torn country as according to the country's national security council, at least 21 civilians were killed and 30 others were wounded in Taliban violence during the last week.
The Afghanistan Independent Human Rights Commission says that two of its employees were killed in an explosion that targeted their vehicle in Kabul on Saturday. The victims were Fatima Khalil, 24, and her driver, Jawid Folad, 41, which sparked international condemnation. Taliban, in a statement, denied involvement in the attack.
"Ms Khalil was a young human rights defender at the beginning of her career. That she will not be able to fulfil her enormous potential is a tragedy. Mr Folad was one of the Commission's longest serving and loyal drivers," the commission said in a statement.
"We condemn such a heinous attack on our employees in the strongest possible terms. As of now, no group has claimed the responsibility of the attack and the perpetrators have not been identified yet. Those responsible should be identified after an investigation and brought to justice for committing this terrible crime."
President Ashraf Ghani on Saturday called on the Taliban to end the violence and instead come forward to start the intra-Afghan talks.
Mask-wearing will be mandatory in certain areas of Iran as of next week and virus-hit provinces can reimpose restrictive measures, President Hassan Rouhani said on Sunday.
The Islamic republic has refrained from enforcing full lockdowns to stop the spread of Covid-19, and the use of masks and protective equipment has been optional in most areas.
Mask-wearing would be "obligatory in covered spaces where there are gatherings", Rouhani said during a televised meeting of the country's anti-virus taskforce.
The measure would come into force as of next week, continue until July 22 and would be extended if necessary, he said.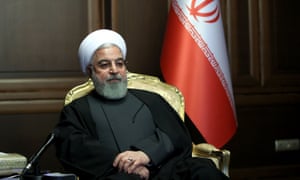 Rouhani said the health ministry had devised "a clear list" of the types of spaces and gatherings deemed high-risk, but he did not elaborate.
He also did not say what the penalty would be for those who fail to observe the measure.
According to deputy health minister Iraj Harirchi, "services will not be given" to those without masks in areas such as "government organisations and shopping malls".
Iran reported its first Covid-19 cases on February 19 and it has since struggled to contain the outbreak as the death toll has crossed 10,000 and the number of infected reached more than 220,000.
Official figures have shown a rising trajectory in new confirmed cases since early May, when Iran hit a near two-month low in daily recorded infections.
The increasing caseload has seen some previously unscathed provinces classified as "red" – the highest level on Iran's colour-coded risk scale – with authorities allowing them to reimpose restrictive measures if required.
According to Rouhani, the measure would be also extended to provinces with "red" counties.
"Any county that is red, its provincial (virus) committee can propose reimposing limitations for a week," which could be extended if needed, he said.
The health ministry launched an "I wear a mask" campaign on Saturday and pleaded with Iranians to observe guidelines aimed at curbing infections.
One Iranian is infected with Covid-19 every 33 seconds and one dies from the disease every 13 minutes, Harirchi said on Saturday.
'Constant vigilance' needed as UK lockdown eases
The UK needs to maintain "constant vigilance" as it eases out of lockdown, a former government chief scientific adviser has warned.
Sir Mark Walport said on Sunday that the UK government faces a "fine balancing act" between managing the virus outbreak and the health harms caused a damaged economy.
Speaking to Sky's Sophy Ridge on Sunday, he said people needed to be "sensible and responsible", and to try and reduce social contact as much as possible.
Citing coronavirus case numbers, he said: "The virus is out there, it is very widely distributed and we have to have constant vigilance."
Asked whether a second spike of the coronavirus outbreak was inevitable, Walport added:



When outbreaks occur they typically occur in clusters and we're seeing certain work environments, for example, food processing factories, as being fairly common places for those clusters to rise.

The common denominator is really being indoors, being crowded, being there for prolonged periods of time, noisy environments where people are coughing and shouting, and so there's more droplet transmission.

It comes back to local control being really important to identify those clusters when they happen and clamp down on them quickly.

We need to do everything we possibly can to avoid a widespread second wave.

The evidence that the virus does transmit better in cold workplaces again suggests that winter might be quite a risky time again."
Asked if the virus could come back in winter when the NHS is under more pressure, Walport said: "That is obviously a significant risk."
He said that the virus probably lasts longer in the air and on surfaces in cold and wet environments.
The total number of people to die from Covid-19 in Russia has increased 104 to 9,073, according to the country's coronavirus response centre.
Russia on Sunday also reported 6,791 new coronavirus cases in the past 24 hours, taking the nationwide tally to 634,437.
That is a slightly smaller increase than that seen the previous day – when there were 6,852 new cases.
It is also the third day in a row since late April when the daily number of new cases was below 7,000.
A summit that included a star-studded virtual concert hosted Dwayne Johnson has raised nearly $7billion in cash and loan guarantees to assist the poor around the globe whose lives have been upended the coronavirus pandemic, AP reports.
Global Citizen said its summit with world leaders had raised $1.5 billion to help Covid-19 efforts in poor countries, along with a promise of 250m doses of a vaccine for those nations if one is successfully developed.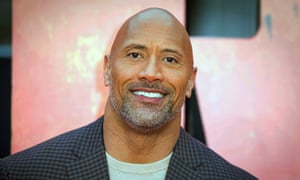 The group said it had secured $5.4 billion in loans and guarantees from the European Commission and the European Investment Bank to support fragile economies worldwide.
The event included a Johnson-hosted concert with performances Jennifer Hudson, Miley Cyrus, Coldplay and Chloe x Halle. Cyrus performed The Beatles Help! in an empty stadium and Hudson performed Where Peaceful Waters Flow from a boat in Chicago.
"The $6.9 billion that was pledged today to support the worlds poorest and most marginalised communities is an incredible next step on our journey out of the Covid-19 era, but there is more still to be done, as no one is safe until everyone is safe," Hugh Evans, CEO of Global Citizen, said after the event Saturday.
"As we fight this virus, we also need to take care of the most vulnerable people and address the challenges they're facing right now," Canadian prime minister Justin Trudeau said during the event.
Speakers also included the leaders of New Zealand, El Salvador, Sweden, South Africa and Barbados.
France holds latest round of delayed municipal elections
Five thousand towns and cities across France are holding the second round of municipal elections which had been postponed due to the country's coronavirus outbreak, AP reports.
The voting to fill local offices in Paris and thousands of other places was suspended after the first round of the nationwide municipal elections on March 15, which produced decisive outcomes in some 30,000 other mostly small communes.
Voters are set to choose mayors and municipal councillors on Sunday at polling stations operating under strict hygiene rules. It is mandatory that voters wear face masks, use soap or hand sanitizer and maintain one meter (about three feet) of physical distance between each other in queues. They have also been told to bring their own pens to sign the register.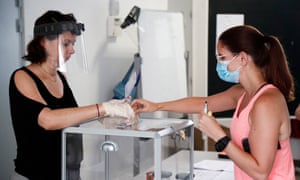 The spread of the coronavirus has slowed significantly in France in recent weeks and almost all restrictions on social and business activity were gradually lifted over the last month. France has reported nearly 200,000 confirmed cases and 29,781 deaths in the pandemic.
But the virus is still expected to hurt Sunday's turnout, as it did in March. Only 44.7% of voters, a record low, cast ballots in the first round of the municipal elections.
The elections, though ostensibly focused on local concerns, are also seen as a key political indicator ahead of the 2022 French presidential election.
The main battleground is Paris, where the mayor is an influential figure in French politics and will oversee the 2024 Olympics. Paris mayor Annie Hidalgo, a Socialist Party member, finished in March with a strong lead ahead of conservative candidate Rachida Dati.
French President Emmanuel Macron's three-year-old centrist party is fielding municipal candidates for the first time and still lacks local roots across France. The party, Republic on the Move, doesn't have candidates in every race and in some instances is backing candidates from both the left and the right instead.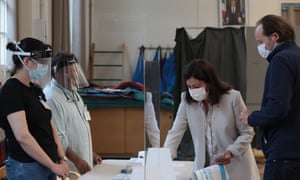 Macron's government has faced criticism during the pandemic over mask shortages, testing capacity and a lack of medical equipment. A government reshuffle is expected in the wake of Sunday's elections.
Recent opinion polls show Macron's popularity rating is hovering around 40%, which is higher than it was before the virus outbreak.
This is Aaron Walawalkar in London here, steering you through the latest global developments in the coronavirus pandemic as the total number of confirmed cases worldwide approaches 10million.
If there's any updates you think I should include in here, please let me know via DM on Twitter @AaronWala. I may not be able to reply to all of your messages due to the level on interest – but I will certainly read them.
The daily number of new coronavirus cases in the Czech Republic has increased to 260, the highest since April 8, Health Ministry data showed on Sunday.
That is nearly triple that of the 93 recorded on Thursday. In total, the country of 10.7 million has confirmed 11,298 cases of the Covid-19 illness, with 347 deaths as of Saturday.
Chief public health officer, Jarmila Razova, told public Czech Radio on Saturday that the rise could be linked to intensive testing in local hotbeds of the infection.
That's it from me, Helen Sullivan, for the weekend. Thanks for following along!
My colleague Aaron Walawalkar will be bringing you the latest pandemic news for the next while.
Here are the main developments around the world from the last few hours:
As cases near 10m, nearly half a million people have died over the course of the pandemic. The current death toll stands at 498,841, according to Johns Hopkins University. The number of infections is 9,984,111.
The number of confirmed coronavirus cases in the United States rose to more than 2.5 million on Saturday. More than 125,000 Americans have died of Covid-19, the highest known death toll from the disease in the world. New York Times chief White House correspondent Peter Baker noted on Twitter that more Americans have died than in the Vietnam War since US President Donald Trump stopped his daily coronavirus task force briefings at the White House.
Video footage appears to show Trump campaign removing social-distancing stickers in Tulsa. Video has emerged of Trump campaign volunteers apparently removing social distancing stickers from seats in the arena where the US president gave a campaign rally that many public health experts had warned against because of the still-surging coronavirus pandemic.
China reported 17 new cases. Mainland China on Sunday reported 17 new coronavirus cases, mostly in the Chinese capital of Beijing. The National Health Commission said 17 new infections were confirmed on Saturday, down from 21 a day earlier. In Beijing, 14 new confirmed cases were reported, down from 17 a day earlier.
South Korea reported 62 new cases. South Korea South Korea has confirmed 62 additional cases of the coronavirus over a 24-hour period as the Asian country continues to face new clusters of infections amid eased social distancing rules. The additional cases reported Sunday took the country's total to 12,715, with 282 deaths.
New Zealand's Covid-19 isolation facilities are under 'extreme stress', review finds. A review of New Zealand's managed isolation and quarantine facilities has found that the system is under "extreme stress" as more and more Kiwis return home. It came as four more returnees tested positive to Covid-19 in the biggest one-day jump in cases in two months.
The US states of Florida, Arizona, Nevada, South Carolina and Georgia each recorded daily highs for coronavirus infections on Saturday, highlighting the worsening spread of the virus in several southern and western states, which is prompting some of them to roll back their reopening plans.
Brazil recorded 38,693 new cases of coronavirus in the past 24 hours and 1,109 additional deaths. The country has now registered 1,313,667 total confirmed cases of the virus and 57,070 deaths.
A growing number of Covid-19 infections among people under 35 years of age is a "worrying trend," Ireland's chief medical officer said on Saturday as the country reported the highest number of new infections for two weeks.
Key recent developments in Australia include:
Victoria, Australia is considering roadblocks and checkpointsafter cases passed 2,000. The Victorian premier, Daniel Andrews, says the state will consider potential stay-at-home orders and suburban lockdowns to contain several coronavirus clusters in Melbourne, after another 49 cases of coronavirus were detected on Saturday – the highest daily number since April – all people coming from overseas. The state's total is 2,028. Queensland and South Australia had no new cases.Victoria is conducting a testing blitz in an attempt to prevent further spread of the virus. About 40,000 people have been tested since Friday.
The Morrison government denied reports it will permanently lift unemployment benefit payments. The Morrison government has denied it about to permanently lift unemployment benefit payments when the treasurer makes a long-awaited economic statement next month. News Corp newspapers, citing senior ministers, had reported the jobseeker payment would rise to $75 per day from $40 when the present enhanced version of the unemployment payment ends in September. "There are no such proposals before the government or under consideration for the economic statement next month," a spokesperson for social services minister Anne Ruston told Australian Associated Press.
New South Wales, Australia recorded 3 new cases. Three new cases of coronavirus have been confirmed in the state of New South Wales, the state health department reported in a statement, bringing the total number of cases in NSW to 3,177.Two of the cases are travellers in hotel quarantine, and the third case is an overseas cargo airline crew member. The crew member's close contacts have been identified, the statement notes, and "further investigations are underway."
Western Australia confirmed 1 new case. The state of Western Australia has confirmed 1 new case of coronavirus, the health department announced on Sunday, to bring the state total to 609. The case is a traveller in hotel quarantine.
Queensland, Australia recorded zero new cases. Queensland recorded no new coronavirus cases overnight but the government will wait until Tuesday to announce any easing of restrictions. Queenslanders will have to wait 48 hours to know when and how Covid-19 restrictions will be lifted after the transport minister stonewalled questions about borders reopening.
Under the mountains of Mourne close to Castlewellan Forest Park's lake, a young family were celebrating the liberation of campsites from lockdown in Northern Ireland.
Before the lifting of restrictions on caravan and camping parks in the rest of the UK, the Kon family had driven for an hour from their Newtonabbey home on the northern outskirts of Belfast to this County Down beauty spot.
Mirchin Kon and his wife Natalia had pitched their tent in a field on Friday afternoon before toasting their regained freedom to camp with bottled German lager.
While their daughters Amber and Olivia played with their dolls on a blanket spread out in front of their tented home, Mirchin said the prospect of going back to the forest park was a comfort they held on to during the coronavirus shutdown.
He said: "I've been dreaming of this day since we went into lockdown. It's been one of the things that has kept us going over the last few months. We only came here once before and really liked this place so we promised ourselves that once it was open again we should come back."
Others huddled around tents and camper vans appeared on Friday to be obeying social distancing rules. They had positioned themselves across the verdant, sun-dappled field with suitably safe amounts of space between each other.
Whatever the new normal is post Covid-19, we don't want it to be anything like the old one. At least, when it comes to earning a living.
Lockdown has given people a chance to sample new ways of balancing their jobs and family lives and they have concluded that something must change. Just 13% want to go back to pre-pandemic ways of working, with most people saying they would prefer to spend a maximum of three days in the office.
A survey of 1,500 people carried out for Bright Horizons, the nursery provider, suggests that many working parents realise that large parts of their jobs can be conducted remotely. And they believe that their employers will agree.
Nearly two-thirds think their employers will be open to remote or flexible working in the future as the widespread adoption of Zoom and other online tools has kept many businesses functioning even as physical workplaces have been shuttered.
Almost half – 48% – of those who worked in an office before lockdown said they were considering asking for some more remote working.
Adisaster is unfolding in Montgomery, Alabama, where Martin Luther King preached and where Rosa Parks was arrested for refusing to give up her seat on the bus. Hospitals are running short of drugs to treat Covid-19, intensive care units are close to capacity, and ventilators are running short.
Between 85% and 90% of the very sick and dying are African American.
Amid this gathering storm, the city council met to decide whether to require people to wear masks, a basic protection the US Centers for Disease Control and Prevention (CDC) strongly recommends. Doctors lined up to plead their case.
"This is beyond an epidemic in this area," said the pulmonologist Bill Saliski. "Our units are full of critically ill covid patients. We have to slow this down."
His colleague, Nina Nelson-Garrett, described watching undertakers carrying out corpses, 30 minutes apart.
"Something as simple as a mask can save someone's life," she said.
Poles began voting in a presidential election Sunday that had originally been scheduled for May but was delayed the coronavirus pandemic, AP reports.
President Andrzej Duda, a 48-year-old conservative backed the ruling party, is running against 10 other candidates as he seeks a second 5-year term.
Most recent polls showed that no single candidate was likely to reach the 50% required to avoid a runoff. In that case, the two top vote-getters will face each other 12 July.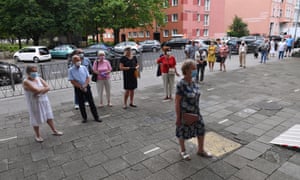 Polling stations remain open until 9pm (19.00 GMT), and exit polls will be announced immediately after. The final officials results are expected Wednesday at the latest.
Poland has not been as badly hit the pandemic as many countries in Western Europe, and most people were voting in person, though required to wear masks and observe other hygiene rules. There was also a mail-in voting option, while thousands in some southwestern regions with higher numbers of infection were also required to vote mail.
As of Sunday, there were about 34,000 confirmed cases of Covid-19 in the nation of 38 million people, with some 1,400 deaths.
Global coronavirus cases are expected to tip over 10 million on Sunday, marking a major milestone in the spread of the disease that has so far killed almost 500,000 people in seven months.
The figure is roughly double the number of severe influenza illnesses recorded annually, according to the World Health Organisation.
The milestone approaches as many hard-hit countries are easing lockdowns, while making extensive alterations to work and social life that could last for a year or more until a vaccine becomes available, if it ever does.
Some countries are experiencing a resurgence in infections, including the United States, which reported 44,000 news cases to 4pm Friday, its biggest daily increase in the pandemic. Its previous biggest increase was on Thursday, when it recorded 40,0000 cases.
Lockdowns have been reinstated in several countries, including parts of the US. Texas – one of the earliest states to return to business – reimposed lockdown measures. Bars – which were open at up to 50% capacity – must close again, restaurants must reduce from 75% to 50% capacity and rafting operations must close. Harris County, which includes Houston, moved to its highest Covid-19 threat level, signalling a "severe and uncontrolled" outbreak.
Fifty years on from the first Gay Pride march, the LGBT community and their supporters took many of their events online Saturday, responding to the threat of the coronavirus pandemic, P reports.
While some activists took to the streets to mark the event, much of the movement's energy was channelled into Global Pride, a 24-hour online event broadcast live online. London Pride, one of the biggest events in the Gay Pride calendar, was one major victim of the new restrictions imposed the pandemic.
Online events replaced it under the slogan: "Postponed, but still united".
But veteran campaigner Peter Tatchell, wearing a rainbow-coloured mask, led a group of 12 fellow activists to mark the 50th anniversary of the founding of the London Gay Liberation Front.
"We are seeking to reclaim Pride as an event for LGBT+ human rights," said the 68-year-old campaigner.
In Berlin, police estimated that around 3,500 people marched in temperatures of around 30 degrees Celsius (86 degrees Fahrenheit).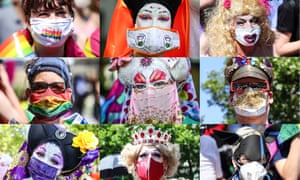 Foreign Minister Heiko Maas tweeted a message of support to the Global Pride event: "Be proud of yourself! No matter who you love, no matter where you live."
In Vienna, around 200 cars and motorbikes decked out in rainbow flags and inflatable unicorns paraded down the city's famous Ringstrasse on Saturday afternoon.
Organisers said around 5,000 people turned out to watch the scaled-down event. Vienna's Rainbow Parade, which normally attracts hundreds of thousands of people, was otherwise replaced online events.
Here's a look at today's coronavirus-related front pages in the UK: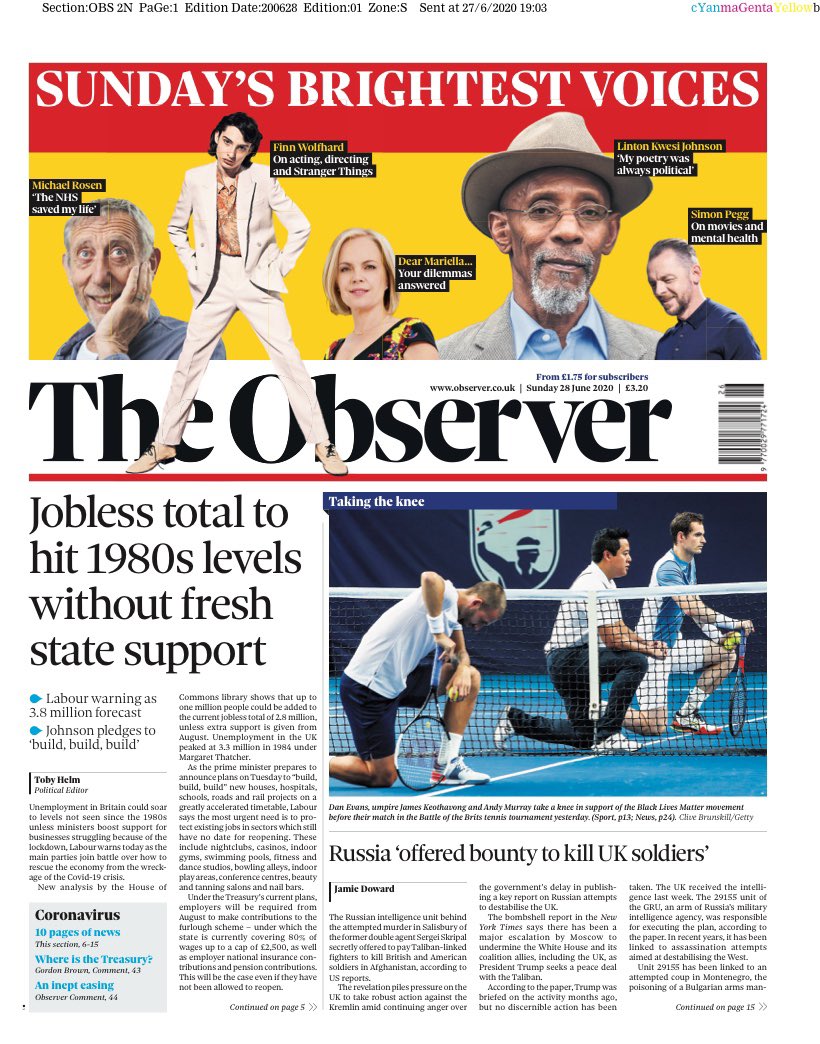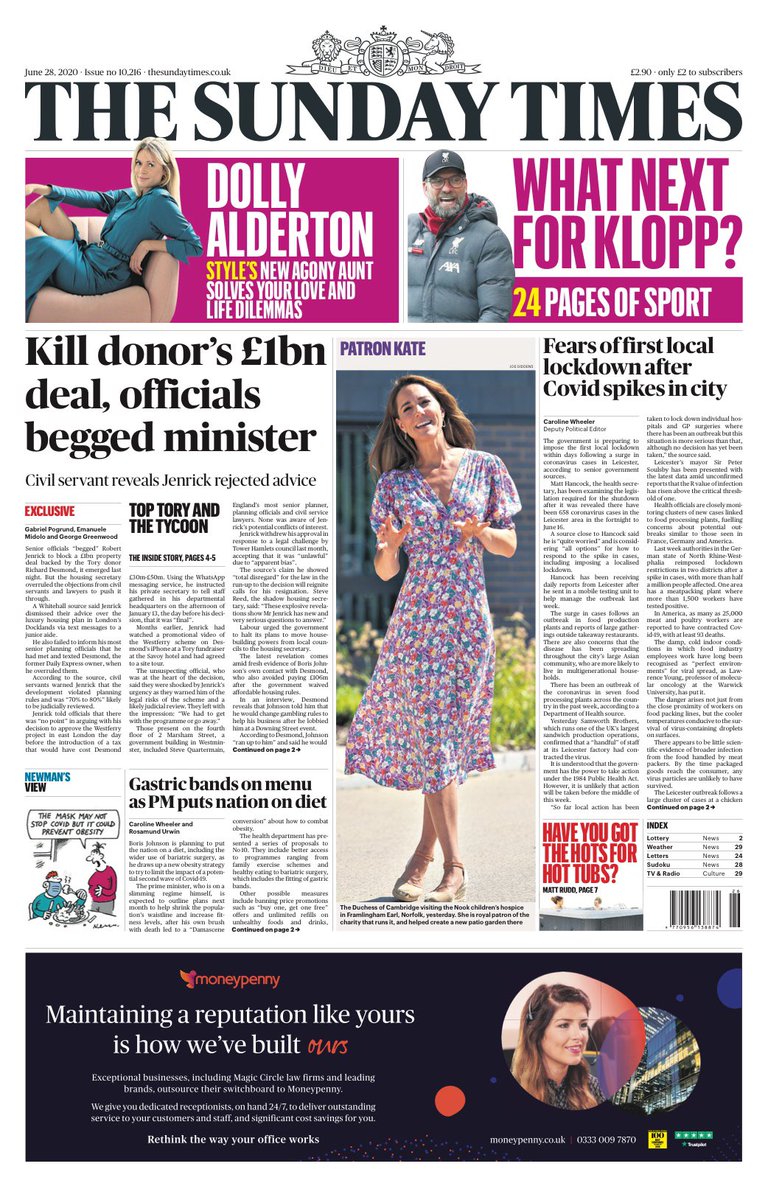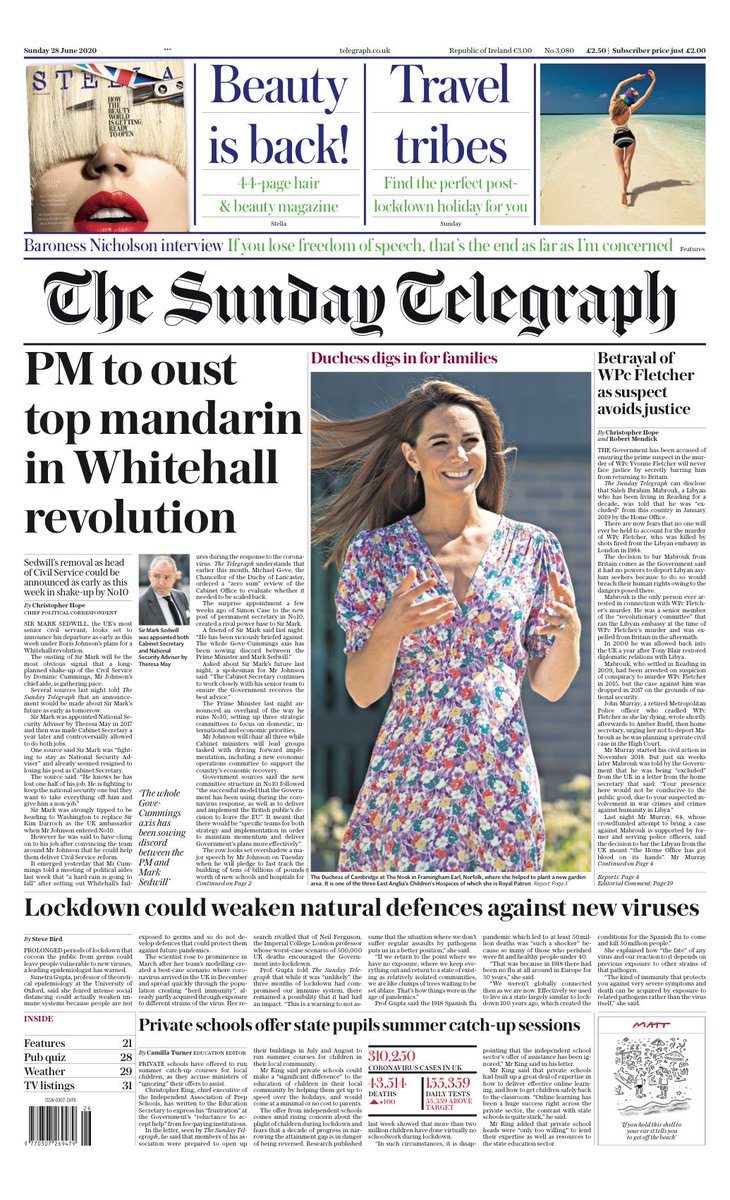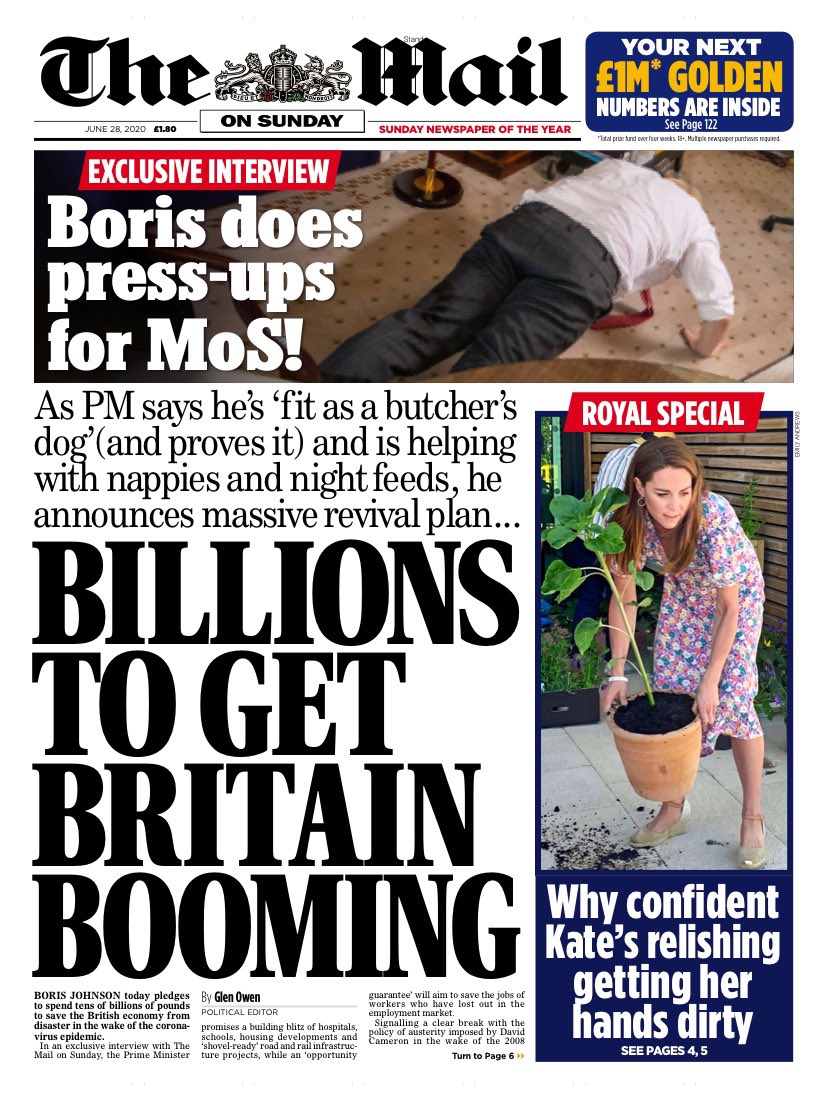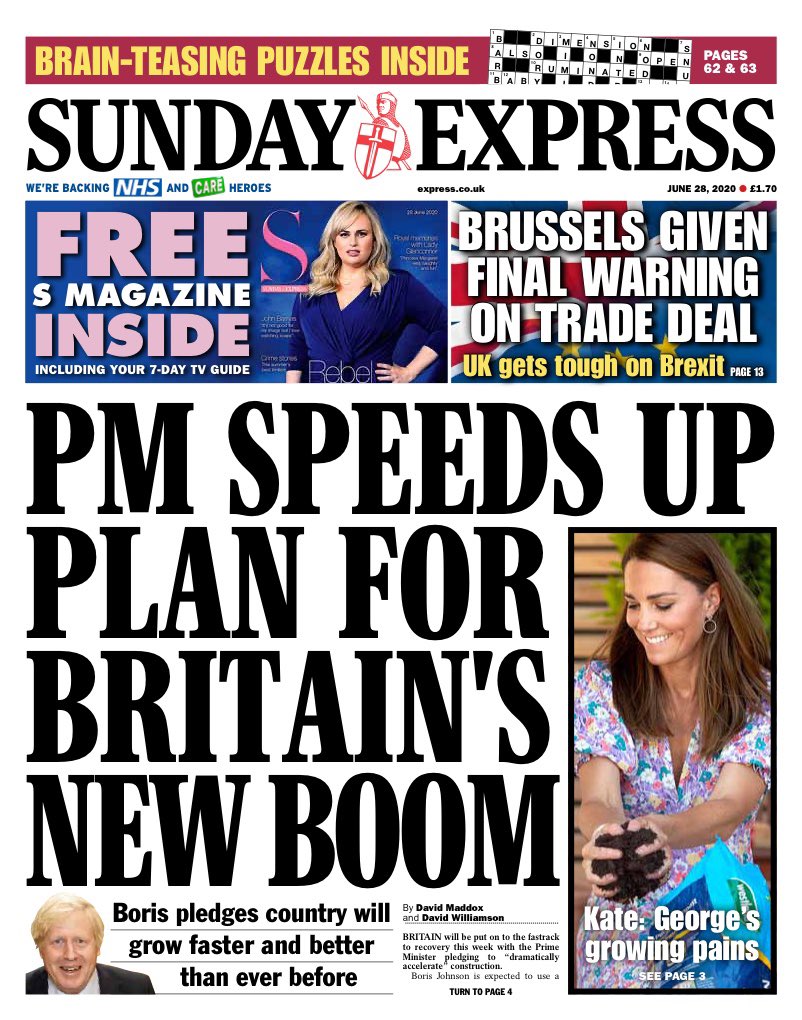 Ireland will maintain a 14-day quarantine for travellers from the British mainland in July even as it plans to ease travel restrictions with some countries, the Sunday Times reports, citing a memo.
The memo with the Irish cabinet committee said it was "highly unlikely" that Britain would be included in Ireland's safe travel list, the report added.
Ireland plans to lift from July 9 a 14-day quarantine for people arriving from countries that have also suppressed the coronavirus, the Irish government said on Thursday.
The number of confirmed coronavirus cases in Germany increased 256 to 193,499, data from the Robert Koch Institute for infectious diseases showed on Sunday.
The reported death toll rose three to 8,957.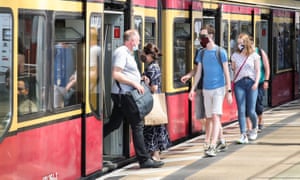 The Observer view on the inept and dangerous handling of the easing of lockdown:



In the past few days, one thing has become depressingly clear: the riddling and misleading communication that has characterised this government's failure to control the pandemic will not find an antidote in the near future.

On Wednesday in parliament the prime minister was asked a simple question Peter Kyle, Labour MP for the seaside constituency of Hove. It was certain, Kyle noted, that with the relaxing of restrictions on socialising, coastal towns like his would become dangerously packed with visitors. "What will the prime minister do in the absence of the promised [track and trace] app to make sure these communities are destinations for investment and not destinations for covid?"

Boris Johnson replied with typical scattergun harrumphing: "I will be calling on local representatives such as himself to show some guts and determination and champion their communities as venues for people to return to and support!"

Those guts were everywhere on display on beaches Thursday. Social distancing now designated at "one metre plus" had predictably collapsed to one metre minus. But still, given the prime minister's exhortation to Kyle at the dispatch box, the people who crammed the beaches – 500,000 in Dorset alone – on the hottest day of the year could justify their day trips with the belief that they were simply doing their national duty. If they were to take Johnson at his word, drinking and barbecuing – and brawling and littering – was the new clap for carers.